Sample Reports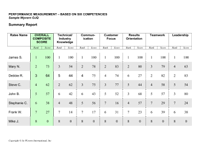 The Summary Report lists all the OJQ Competency scores and OJQ Composite Scores along with the associated rankings for all ratees in the project.

The Summary Report, which is the best reference for an overall view of the entire project, shows the scores and the rankings for each individual ratee in the ratee group.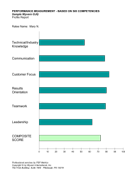 The Profile Report is a graphic representation of an individual ratee's scores on each of the competencies as well as that ratee's composite score. The lengths of the bars correspond to the levels of the OJQ scores for the individual ratee based on the scale at the bottom of the page.

All OJQ scores below five are presented on the profile as a score of five. The profile report is an excellent tool for managers when focusing on an individual ratee.